IFNα2a, 2b, GM-CSF ; Those are candidate of biosimilar or adjuvant
for infectious disease and cancer vaccine.
IL-10, TGF-β, IL-4 ; Those are adjuvant of mucosal tolerance for
allergic and autoimmune diseases.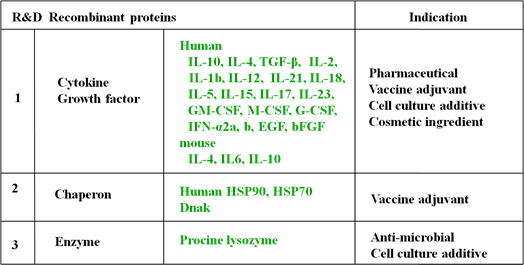 R&D

Acquired immunity is required for activation of the innate immune systems. Adjuvant as a substance that activate dendritic cells serve as a link between the innate and aquired immune systems.
Since recombinant protein antigens show low immunogenicity, recombinant protein vaccine requires an adjuvant. However there is not many available adjuvants. The utilization of the cytokine adjuvant could be improved by edure.The rice produced cytokine is a good candidate as anadjuvant for topical administrationon mucosal and transdermal surface.